ブリッジポート大学(UB)の 女子サッカーチームに関する記事が11月2日付けのConnecticut Post誌に掲載されました。現在UB女子サッカーチームは16勝0敗でシーズン全勝記録を維持しています。アメリカ全国大学女子サッカーリーグDivision IIでは唯一無敗のチームです。Connecticut Postの記事を以下に紹介します。
Go UB!!
UB Women's Soccer Not Feeling the Pressure
Mike Cardillo, Staff writer
Connecticut Post
Wednesday, November 2, 2011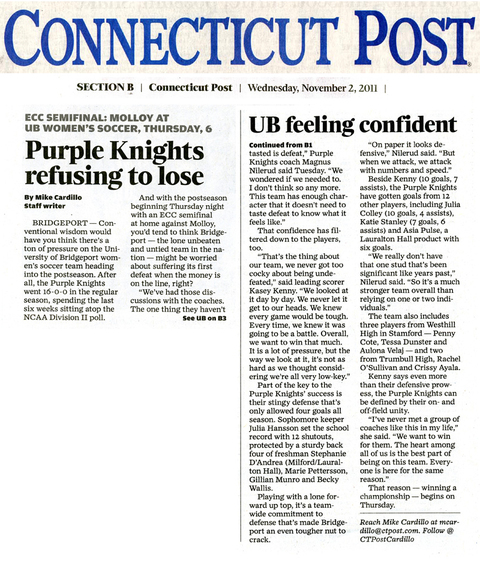 BRIDGEPORT -- Conventional wisdom would have you think there's a ton of pressure on the University of Bridgeport women's soccer team heading into the postseason. After all, the Purple Knights went 16-0-0 in the regular season, spending the last six weeks sitting atop the NCAA Division II poll.
And with the postseason beginning Thursday night with an ECC semifinal at home against Molloy, you'd tend to think Bridgeport -- the lone unbeaten and untied team in the nation -- might be worried about suffering its first defeat when the money is on the line, right?
"We've had those discussions with the coaches. The one thing they haven't tasted is defeat," Purple Knights coach Magnus Nilerud said Tuesday. "We wondered if we needed to. I don't think so any more. This team has enough character that it doesn't need to taste defeat to know what it feels like."
That confidence has filtered down to the players, too.
"That's the thing about our team, we never got too cocky about being undefeated," said leading scorer Kasey Kenny. "We looked at it day by day. We never let it get to our heads. We knew every game would be tough. Every time, we knew it was going to be a battle. Overall, we want to win that much. It is a lot of pressure, but the way we look at it, it's not as hard as we thought considering we're all very low-key."
Part of the key to the Purple Knights' success is their stingy defense that's only allowed four goals all season. Sophomore keeper Julia Hansson set the school record with 12 shutouts, protected by a sturdy back four of freshman Stephanie D'Andrea (Milford/Lauralton Hall), Marie Pettersson, Gillian Munro and Becky Wallis.
Playing with a lone forward up top, it's a team-wide commitment to defense that's made Bridgeport an even tougher nut to crack.
"On paper it looks defensive," Nilerud said. "But when we attack, we attack with numbers and speed."
Beside Kenny (10 goals, 7 assists), the Purple Knights have gotten goals from 12 other players, including Julia Colley (10 goals, 4 assists), Katie Stanley (7 goals, 6 assists) and Asia Pulse, a Lauralton Hall product with six goals.
"We really don't have that one stud that's been significant like years past," Nilerud said. "So it's a much stronger team overall than relying on one or two individuals."
The team also includes three players from Westhill High in Stamford -- Penny Cote, Tessa Dunster and Aulona Velaj -- and two from Trumbull High, Rachel O'Sullivan and Crissy Ayala.
Kenny says even more than their defensive prowess, the Purple Knights can be defined by their on- and off-field unity.
"I've never met a group of coaches like this in my life," she said. "We want to win for them. The heart among all of us is the best part of being on this team. Everyone is here for the same reason."
That reason -- winning a championship -- begins on Thursday.
Reach Mike Cardillo at mcardillo@ctpost.com.