The Connecticut Postにブリッジポート大学、工学部の関連記事が掲載されましたので紹介します。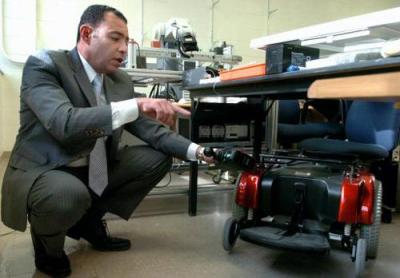 "Bridgeport Engineering School Booming"
By Rob Varnon
Connecticut Post
(November 21, 2007)
On a recent fall day, the smell of fresh paint hung in the air at the University of Bridgeport - School of Engineering, where Dean Tarek Sobh gave a rapid-fire talk and tour of the school, which hit a record high in enrollment this year.
Sobh has much to be excited about these days.
Grant money is rolling in from a variety of sources, including NASA, students are winning contests and finding jobs with major corporations. And, most importantly, they are choosing to come to UB
.
"This is really unprecedented," Sobh said of the growth.
UB's engineering school, with 1,250 students, is among the top three for enrollment in New England
.
Economist Todd Martin, a UB graduate, said the university's return to prominence is good news for the city. With an uncertain economy that's weathering rising energy prices and inflation, having a university with a strong engineering department could be important for improving Bridgeport's fortunes, according to Martin.
Because so much of Connecticut's success is tied to producing innovative products and services, "We're going to need smart engineers and smart scientists." UB and other schools can provide those people, Martin said. But the increased enrollment isn't enough to really help move the economy forward. "In really successful cities, there's a strong interconnection between private to public and academic centers," Martin said.
Sobh and UB President Neil Albert Salonen said they recognize that and are working to reach out to businesses, Bridgeport and other cities in the state.
Internships and finding jobs for graduates are two of the ways, and Sobh said he's doing this. A multi-page list of companies that hired UB graduates in the last seven years includes Bristol-Meyers Squibb, General Electric Co. and New York Medical Center, among others.
According to Sobh, this is a process that's snowballing. In the beginning, there were only a few being hired but as those graduates have proven themselves, the companies come back to find more like them.
Primarily, the school of engineering is turning out computer-related engineers, but Sobh said the new faculty is energized and willing to push into other disciplines and create more programs.
There are more than 65 teachers in the department now, he said, and the school has added nanotechnology, biomedical and a variety of other disciplines.