The University of Bridgeport's "Honor Heroes/Honor UB" float received its own recognition on Sunday when it won an honorable mention at the City of Bridgeport's Great Street Parade, the centerpiece to the annual Barnum Festival.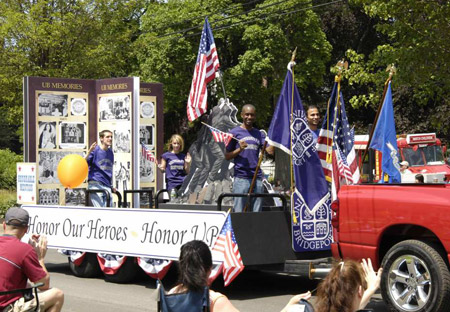 (写真: UB students Cyle Hernandez, Hannah Nilson, Kevin Dinnall, and Amit Sharma wave to spectators at the annual Barnum Day Parade.)
This year's parade theme was honoring heroes. UB's float captured the timeless courage of America's soldiers, as well as the school's rich history, with photographs of campus life and a full-size replica of U.S. Marines hoisting the American flag at Mount Suribachi at Iwo Jima. A flag fluttered high above the iconic image, which was taken on Feb. 23, 1945 by Associated Press photographer Joe Rosenthal.
The float was designed, created, and donated by Innovative Display & Design, Inc., an exhibit company in Bridgeport, Conn. Managing partner Donna Shea '86 is a UB alumna who majored in industrial design, as did company partners Gene Shapiro '86 and Andrew Pandiani '86.
The past also met the present as current students Kevin Dinnall, Cyle Hernandez, Hanna Nilson, and Amit Sharma rode on the float and waved to cheering crowds who lined the parade route. The foursome stood in front of a large display of photographs taken on campus from the 1940s to the 1990s, including year book shots of a former "Wisteria Queen" and pop star Cyndi Lauper, who performed at the school's Arnold Bernhard Center for Arts and Humanities in the 1980s.