ブリッジポート大学の女子サッカ ーチームは
"競技場における 国連: the United Nations on turf"
と呼ばれています。UBの女子サッカーチームはアメリカをはじめ、イギリス、スウェーデン、アイスランド、スコットランド、ウェールズ、バハマ諸島、コソボなど8カ国から集う学生によって構成されています。
9月22日付けの
Connecticut Post新聞
では2面にかけてUB女子サッカチームに関する内容が記載されましたのでその一部を紹介します。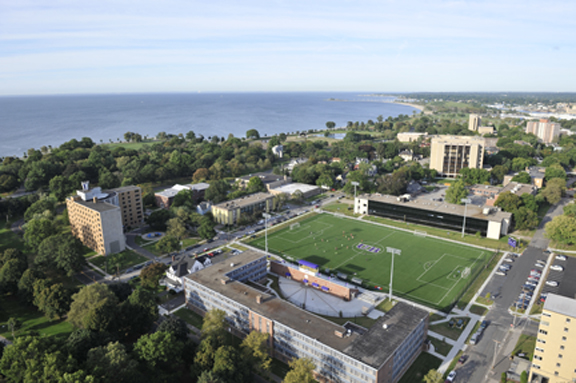 UB SHOWS INTERNATIONAL FLAIR
By WILLIAM S. PAXTON, Staff writer
Connecticut Post: 09/22/2008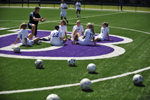 There is no statue of Magnus Nilerud standing in the Long Island Sound with his arms open wide. But if there was, the message inscribed on it would read, "Give us your stopper, your sweeper, your goalie, your explosive strikers, looking to break free "
Superpowers might have gone out with the Cold War, but the University of Bridgeport women's soccer coach is trying to assemble one of his own with an international flair.
Call it the United Nations on turf. With players from eight different countries, the Purple Knights have become a modern-day melting pot for women's soccer.
Trying to assemble a common ground with players from all over Europe, one from the Bahamas and the United States delegation going into a season is no easy task.
"We just do our own thing here in Bridgeport. When we come here, we get out of our home style and come together as UB. A lot of the athletes are international at the school, so we stick together."
"I think the fact we are from different backgrounds gives us a big advantage because we are used to a certain type of play, and so we bring all sorts of different aspects of things and are not one-dimensional," said Emma Woolley, a junior midfielder from England. "I think in Europe, the skill level is better as opposed to the fitness level (being better) in America, so we combine the two." "As soon as we understand each other (we are in good shape)," added junior co-captain Sofia Hoflin.
So far, Nilerud's United Nations on turf has been good enough to earn several votes in the NCAA Division II poll, but has not quite cracked the top 25. They are working on it, though. "If we stay with this thing that we are doing now and make sure we stay on the ground, then I don't see why we can't go all the way this year," Hinriksdottir said.